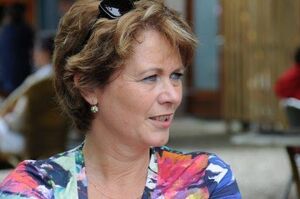 I'm a 29 yr old mature student in a Scottish university. When I was growing up my divorced mother spanked me regularly when I was in my teens. Those were the days when I had a pert little bum!z My mum remarried when I was 18 and from then on both of us, mum and me, were spanked by my mother's husband and my stepfather. If we were both in trouble for the same thing...such as overspending on a shopping expedition...we were spanked together. Sometimes this meant that we had to bend over side by side, with our skirts up and knickers down, and present our bared bottoms for the strap. At other times we would be taken over his knee, one after the other, and given a sound handspanking.
Of course, quite often we got into trouble on our own and then we were spanked or strapped for our individual misbehaviours. Mum often watched whilst I was punished and equally often I was allowed to watch whilst her lovely, mature behind was dealt with!
Now, at 29, my pert little bum has grown somewhat and and is now not only the same shape as mum's but also the same size. Only a short time ago I did not do as well as expected on a placement I was on from uni. Daddy was in the area on business and so he came and took me out for dinner, then drove me back to the farm where I was working, took me into an isolated outhouse and tanned my bare behind. Afterwards, whilst I was rubbing my red and sore bottom, he told me that he could have been spanking Mummy because our bottoms are so similar. Perhaps I should tell you that we both wear UK size 12 knickers!
When in Scotland I stay with a distant female cousin of my stepfather's...a single, middle-aged schoolteacher lady...who has leave to discipline me when and how she sees fit. Her favourite is to warm my bottom over her knee before making me bend over and using the tawse to make my bottom dance. I often get spanked at the end of the day and am sent to bed with a sore bum but if I have been very naughty I get spanked in the early morning and have to go through a whole day not wanting to sit down and not wanting to walk about either because my sore cheeks rub against each other and cause me lots of discomfort.
The last spanking she gave me was because I got a speeding ticket which led to a fine of £60 and 3 points on my licence. Aunty Ruth, which is what I call her, was asked by my parents to del with me and she gave me 60 hand smacks followed by 60 strokes of the tawse and finally 3 strokes with the cane. I have to tell you that I couldn't sit down comfortably for days on end. But that wasn't the end of the story because I asked Mummy to pay the fine for me because I had no spare cash whatever. She relented and paid the money for me but unfortunately Daddy found out and oh my was he angry with Mummy. So angry in fact that he sent Mummy to Scotland to see Ruth, who was instructed to deal with Mummy's bottom in exactly the same way that she had dealt with mine. AND she was told that I must be present to witness Mummy's chastisement. As you can imagine she is always embarrassed when I watch her being spanked although for some years now, as I got older, she has often asked me to soothe her bottom after a spanking with a cold face cloth and /or soothing cream. I must say that I do enjoy the feel of her plump cheeks as I soothe them. At one time I could never imagine that one day my bottom would be as big as hers but it already is and feeling my own behind is now the same as feeling hers! You will see from the photo that when I get spanked my size 12 bottom is not only red and sore but also swollen and looks even bigger.

...