The Goddesses: Madam Caramel & Goddess Siren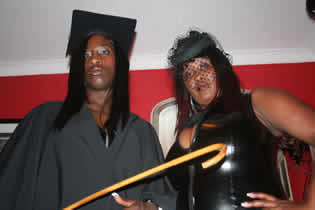 Both of us are very dominant, sensual erotic and strict.

Madame Caramel is a volutpous bbw domme, expert in facessiting and humilliation.

Goddesss Siren has a tall and slim with an Amazonian figure, expecializes in cp and trampling.

We both think that domination in not limit to the dungeon. The dynamics of domination and submission ias all around us and we like to challenge the slaves in our everday environments.
General Details about my Mistress Services:
If you are lucky you will have double facessiting, double strap-on play, two pair of knockers to worship, double pissing, cbt, trampling, fisting, rape play, adult baby (two mummies) headmistress and secreatry, doctor and nurse ... the possibities are endless. We will cater to all fetishes and fantasies in a very sensual manner and we will take you to the extreme.
For the two dommes will be a mere £300 or if you are a clever enough come to one of our bi-sluts parties you can see and play with both mistress for a more reduce tribute. Contact us for more details.
Slave parties starting now from the Bethnal Green dungeon (02/11/2007). Two mistress and, if you lucky enough, a well hung black master!
My Personal & Directly Associated Banner Links:

Click Above to Visit my Website and Learn More or to make a Booking
---