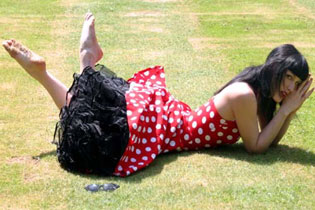 I am a CP, spanking and role player lover to the heart.

Whether I am being spanked or doing the spanking!

I have been into the scene for some 1.5 years, I have been a lifestyle slave for almost 3.

As well as 1-2-1 sessions I film on a regular basis and love every stroke of the cane!!
General Details about my Mistress Services:
Sarah Collins sessions are CP and spanking based, whether you require a naughty school girl to correct or just want to have some fun spanking a sweet bottom to a rosy red glow!

We can role play if you like, some of my favorites are school girl, secretary, insolent niece to name just a few classics but I am always open to suggestions of any kind!
You never know until you ask!

If you are a beginner or novice then please come along and Master and I can show you how to play safely and how to get the most from your play time.
We will show you how to use the tools correctly, which areas are unsafe for play and the well practiced techniques of pleasure and pain.

Switch sessions and role play sessions where I am in the role of of the punisher are also available. I like to role play and I enjoy inflicting pain with CP and spanking but I am not naturally dominant or a switch, just to confuse you!

I know well how to play from light no marking spanking right the way up to extreme and severe judicial canings. I am accurate and experienced.

Just imagine my bottom red and hot after your hand has paid it much attention...
Session tribute:

£150 for 1-2-1
£200 for Master and I

Locations: Northampton ; London ; Pimlico (London) ; Kentish Town at The Fortress
Click Above to Visit my Website and Learn More or to make a Booking
---