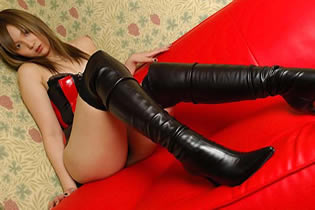 Lady Princess Selene:
I'm a young yet very experienced Dominatrix. Born in Taipei, I spent most of my childhood in Europe before returning to Taipei. I discovered my dominant side at age 14, and found my love for leather and latex when I was in NYC as a high school exchange student.
At eighteen I was invited to LA by a Dominatrix friend to do some modeling and film shooting. I loved the life so decided to stay in LA and became a Dominatrix and full-time model. I now currently reside in Taipei, but still travel overseas frequently.
Although a Dominatrix, I don't just consider this as a profession. Born a Princess, I do this as a lifestle!
General Details about my Mistress Services:
Services for Dominant Females:
If you're a dominant female (both lifestyle or professional) seeking Dominatrix training or experience exchanges, please don't hesitate to contact Princess Selene directly.

Services for Submissive Females:
Maids / Slavegirls
Slave girls seeking a longterm relationship with Princess Selene are always welcome. After being trained, they may have chances to become maids and move in with Princess Selene to serve her 24/7.
Slave girls must send application (see below for details) first. All applications are reviewed by Princess Selene herself.
Application requirement:
Mini biography, photos showing face and fullbody, statement of purpose.

Services for Admirers:
Due to enormous requests, Princess Selene has decided to offer services for all admirers. She provides them a chance to admire her, worship her, fill up her wishlist, contribute to her, and prove their loyalty to Princess Selene.
Tribute:
She encourages admirers to contribute by donating to the Doctors without Borders (Médecins Sans Frontières) in honor of Princess Selene, instead of making direct tribute to her. However, for admirers who wish to contribute directly, they can do it throught Paypal

Distant Domination:
Loyal slaves and admirers will have the luck to receive distant domination by Princess Selene.
Garments and Belongings for Worship:
Princess Selene understands the need of some admirers to worship her garments and belongings. Her autographs are also available free of charge. Admirers may contact The Attaché Corps for more details.
Sessions:
Pricess Selene has re-opened her sessions to the public. However, as she has moved back to Taiwan, sessions are now offered at her Winter Palace instead of The Castle. Sessions are booked through Princess Selene herself. All sessions must be scheduled one week ahead.
Requirement:
Attendants must be female who can show 100% submission under the boots of Princess Selene.
Tuition:
There's no fixed tuition for session. Attendants are required to show an appropriate gesture.
Click Above to Visit my Website and Learn More or to make a Booking
---