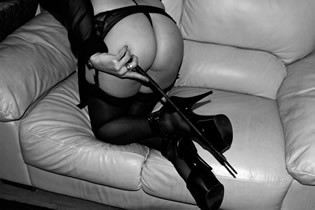 I'm a tall mature blonde from sunny California, here on a mission! ... Discipline!!

We all need it, especially those that know they need it!
I've had a lot of experience of training those who know what's good for them. As a veteran of the erotic, over 20 years, I know how to train you superbly from top to toe. This is a very personal service indeed!

I will again access what you need once I speak to you. I am known as the Iron Lady with a velvet glove.
General Details about my Mistress Services:
Foot and body worship is what I specialise in. Beginners welcome as I am very understanding in such a personal manner. I am very open minded, from top to toe, water sports, mild bondage, strap on training to tie and tease. I also understand the intrest in cross dressing regardless if it's mild, just experiencing a little or complete cross dressing. Regardless, each person is accessed according to what I feel is needed. Over night stays are also available on request. This is not a menu, hence I need to speak to you before deciding to see you.
My rates vary. We must talk first so please ring me after 11am, (7 days a week.) - I don't like to rush, I even have extended stays, as well as afternoon breaks to freshen up the rest of the day, so to speak.
Everyone is individual, so I must speak to you on the phone ..( Tel: 07979735395 ).
I'm five minuites from Earls Court Station by foot, so no excuse! Please, ring again at least one hour before you are booked to arrive. Good manners are essential. My aim is to make you a better person and feel good in general, your aim is to please me!
My Personal & Directly Associated Banner Links:

Click Above to Visit my Website and Learn More or to make a Booking
---