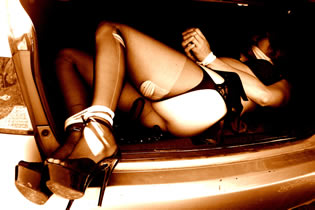 I am the Divine Mistress Katalina, a stunning slender Mistress with a body to die for ...

I am a petite atheletic beauty in perfect shape that will instatntly captivate you under my spell. My slender waister, gorgeous breast and long sensual legs will lure you into a state of helpless surrender. Standing at 163cm tall, with jet black hair and piercing blue eyes and elegant bone structure, I am a true Goddess.

I am an energetic creative MIstress with a great sense of humour and a wickedly playful mind that will soon have you falling to your knees...
General Details about my Mistress Services:
I am a versatile Mistress who specialises in all forms of bondage, mind play and role play. I have a passion for CBT, kidnapping scenarios and anal eroticism. I enjoy erotic teaste and spanking and can be quite cruel when called for...My demure look is the perfect disguise for those that wish to try and test me...Oh and I do like a challege, I love to see men fall to their knees and beg for mercy ....
I am available from 10am to 10pm Monday - Saturday
Click Above to Visit my Website and Learn More or to make a Booking
---