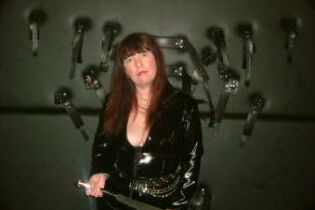 I have been a pro-dominatrix for the last 20yrs. Ever since I was a young girl, I have enjoyed taking charge.

I love my dominanant existance and I am extremely good at what I do.

I can be very strict one minute and quite sensual the next. I believe that pleasure in pain compliment each other in many ways.
General Details about my Mistress Services:
I have fully equipped chambers in Northumberland, with a number of themed rooms.

The pleasuredome is my main dungeon room and it is equipped to a very high standard with full suspention, bondage wheel, coffin, inquisitors cross, st andrews cross, stocks, bondage bed, whipping benches, bondage beam, vacumn bed, rubber cocoon ball, body bags and much more.

Also fully fitted medical room, school room, and fifis parlour which is a dressing up room for tvs/cds where full make-overs and a dressing service are offered.

I cover a wide range of services and offer all aspects of BDSM including many unusual fetishes.

Also double dom sessions are available contact me for further information and tributes.
My availability
Mon-Fri: 11am-9pm
Sat-Sun: 11am-8pm

Session tributes
30mins - £60
1hr - £100
1hr 30mins - £150
2hrs - £180
Longer hrs available. Please enquire for more information.
Also available within my chambers: Submissive girls, bi males, Tvs
My Personal & Directly Associated Banner Links:

Click Above to Visit my Website and Learn More or to make a Booking
---