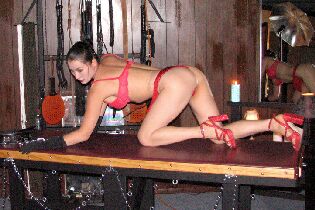 I am Mistress Lotus, a handsome busty woman who is involved in weight training and keeping fit. My costumes vary to suit different tastes; all of them look good on my lush body and strong legs.

Let me know if you prefer black leather or feminine lace. Aside from that, your session can be adjusted to your particulars and your tolerance for pain: if you want, you can receive mild domination that can serve as an initiation to the art of masochism, or perhaps you prefer a savage scourging that takes your breath away and makes you beg for mercy.
General Details about my Mistress Services:
I am a sensuous and beautiful Dominatrix from the Far East. As a Mistress in Hong Kong for 7 years, I have honed my talents as a tormentor of submissive men. When you call me, we will converse in a respectful manner and you can reveal your secret wishes and fantasies to me. We can make an appointment; after arriving and an interview to establish your desires and limits, I can perform bondage, CBT, whipping and other torments with hot wax, electricity and various other "tough love" accoutrements. Novices and experienced submissive are all welcome at my studio, as are couples too.

I treat my clients with respect and courtesy on the phone and also when chatting before and after the secession: I expect you to show good manners and do the same, yet how you are dealt with in the actual secession depends largely on your whims. Please contact me to experience classy Oriental S&M by a skillful Chinese dominatrix.
My schedule is very flexible, once you contact me we will set up a time to meet at my studio. We run many discounts and specials, please contact me for pricing information.
Click Above to Visit my Website and Learn More or to make a Booking
---