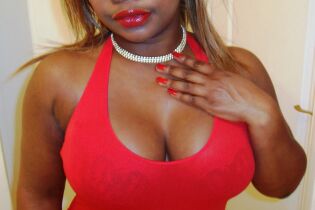 Listen carefully sissy boy! ....
I am Mistress Foxxy, a stunning black Mistress offering disgusting little wankers like you the chance to spend time with a real life Domme.

I have been a professional Mistress for many years, specializing in financial domination, money slavery, teasing and humiliation and I know what makes you snivelling worms tick.

I use My 34F-26-34 charms to wrap you around My little finger. So be prepared to suffer and tribute Me for the privilege. Lol.
General Details about my Mistress Services:
I am very strict and expect full devotion from all My subbie wimps.

My website is for sissies and pathetic excuses for male specimens, those who wish to serve a real Black Goddess Ė no gimmicks, just 100% teasing and humiliation.

We both know why you are here donít we? How long have your clammy little hands been scouring the internet trying to find Me?? Well donít worry, now you have. But donít think you can relax now Ė just remember your place and manners when you are in My presence.

Iím that Black Bitch you are craving to serve. I see losers like you staring at Me all the time, trying to imagine what My round, bare, Black ass must look like when Iím bending over. Drooling at My big black tits heaving beneath my sexy outfit. Letís get one thing straight Ė you are never ever going to be man enough to get anywhere near either!

I do not have a dungeon filled with tools and equipment, I work with your senses: fear, excitement and lust and twist you around My little finger with my teasing and humiliation. For a real time session you can bring whatever little sissy toys you would like Me to tease and laugh at you with and I will be happy to mock and administer anything which gives you both pleasure or embarrassment and amuses Me.

Do you really want to know what I like jerk off? Are you sure?? Now then, let me see, I guess you think you are pretty well hung? How big are you, 6Ē or 7Ē? I bet you cheat when you measure it too donít you? Ha ha!!! Want to see what I like? Real Men who donít need to measure themselves, or waste time looking for wanking material as I am more than willing to service their requirements.

I enjoy forcing you to dress up in panties and frills Ė after all, youíre not a man are you? We can have much more fun together, or rather I can Ė laughing and teasing you Ė if you can just admit what you are. A little panty wearing wanker!

I am an exceptional tease and like nothing better than telling you what I think of you and encouraging your pathetic behaviour! If you are a really good Ďgirlí I might even let you stroke your little white clittie until you make a watery mess of yourself!!! Ha ha ha Ė stop stroking NOW loser!!!

I believe in female supremacy. You little cock tuggers are ruled by your tiny princess. I bet that gets distracting doesnít it?? Aaaaaaah poor little pwincess straining to get out of your panties to make a tiny mess. Youíve got a little wanking problem havenít you loser (Lol)? Too bad! That disgusting teeny weeny clittie between your legs belongs to Me now. I will rule little white princess from now on and thatís why you will be my snivelling weak bitch!

Go on, why donít you email me and tell me all about it? If you amuse me sufficiently who knows, I might actually respond!! Lucky little bitches can even apply for a real time session with Me.

Itís so tedious when sissies like you try to behave like Real Men. Just admit to yourself that you are really a pathetic, weak, little whore. Then we might be able to get on!

My Interests
Money Slavery
Financial Blackmail
Real Time Domination
Humiliation
Degradation
Cuckolding white sissies
Tease & Denial
Sissy Training
Forced Feminisation
Adult Baby
Foot Worship
CBT
Hot Wax
Ice
Watersports
Spanking
Human Ashtray
Corporal Punishment (hand, cane, shoe)
Spitting
Trampling
Face Sitting/Queening (clothed wanker!)
CFNM
Email/Distance Training (4 emails per month)
Enforced Chastity/Keyholding
Webcam Domination
Phone Domination
For Real Time sessions, I am available by pre arranged appointment only between 10.00 am and 2.00pm Monday to Friday (Weekend and weekday evening sessions can also be arranged subject to avaiability). All other types of sessions may be made between 10.00 am and 10.00pm. Appointments are mandatory for all types of sessions (contact Me via email or text message to check availability) Ė I am a very busy Lady. Discretion is expected and given at all times

Some of My rates are:-
* Real Time Servitude: £150 (1st hour), £100 per hour thereafter
* Webcam Domination: £2.00 per min (minimum 15 minutes)
* Phone Domination: £1.00 per min (minimum 15 minutes)
* Email Training: £25.00 per month (4 emails monthly)
I know that you would love the chance to hear about my experiences first hand, to get a glimpse of me in the flesh and to be treated like the sissy whore you are.

I am sure that I donít have to explain to you losers that there is absolutely no sex or touching me but just to be clear, I am only interested in fucking real men Ė especially black men. Just look at my photo pervert Ė do you really think that you can satisfy me??
My Personal & Directly Associated Banner Links:

Click Above to Visit my Website and Learn More or to make a Booking
---