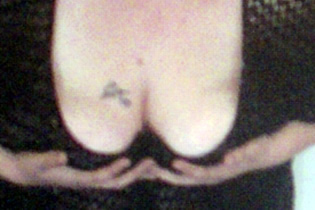 Bi bbw domme, old school and very strict, I have a little time to spend on some more slaves, but I want the best. if you are loyal and a real slave then come and be dominated by this fab BBW.

Mistress Eden is 5'8, blue eyes, curly long bobed hair, size 18/20, very sexy, very strict, very twisted!

I love leather and pvc, and sexy undies. I want male and females any sexuallity or sexual pleasure.
General Details about my Mistress Services:
Domanation, humiliation, crushing, spanking, roll play, fetish, small cock.
I am open to what you require and will chat about what you are looking for.

My base is in a local club, (membership is not required), and the club won't be open when you visit.

I will also do: domme/dom training, couples ... and I am happy to have newbies as well, (we all need to start some where!). Open to everyone, bi, gay, stright, TV's all welcome. MSN service as well.
All apointments need booking in advance. (day and night)
Will travel.

Half hour: £60
Full Hour: £90

For details on muliti bookings and offers, email me.
I love being a domme and I have a great humor with a harsh hand. Nothing puts me off and I always demand the best!, are you good enough for me. I will make sure you submit to me everytime and if you are good I will reward you. I am based in scarborough but I will come to you, if you are worth the trip.
My Personal & Directly Associated Banner Links:

Click Above to Visit my Website and Learn More or to make a Booking
---