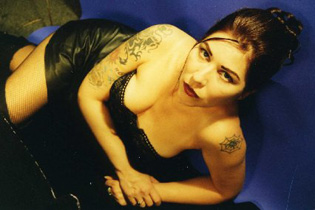 I've been a Pro Domme for over 10 years. I really love seeing slaves, and I love doing sessions.

I have a nice playspace of my own that I like to do sessions in Jersey City, NJ, USA.

I like to travel and enjoy visiting slaves too.

I am tall, 5'10", I have long dark red hair, green eyes and fair skin.
General Details about my Mistress Services:
www.domina.ms/NewJersey, look up this site and read my list of favorite sessions. Tight rope bondage is one of my favorite session activity. I have a blue spandex body bag with I love using. I enjoy piercing as an extreme type of torture, those slaves that are bored with nipple torture find that when I pierce their nipples and then give them nipple torture, they find it much more to their liking, the sensations are much more intense.
I'm available 7 days, 12 noon to 11 pm. I take same day appointments only.
Call 201-435-2946 to arrange a same day appointment.
A session in my playspace in Jersey City NJ, USA is a very enjoyable experience. It is not rushed, my playspace is comfortable, clean, and inviting.
I love wearing black leather outfits, shoes and gloves.
I love receiving perfumes as gifts, and I have an extensive wish list on my personal webpage.
My Directly Associated Links:

Click Above to Visit my Website and Learn More or to make a Booking
---