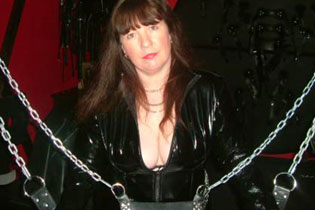 I am a Professional Dominatrix with many years of experience.

I love all aspects of BDSM and enjoy all role play scenarios.I cater for the novice as well as the more serious player.

I command your respect and will push you to your limits and beyond.

I will help you to achieve your goal,in a safe and clean enviroment.
General Details about my Mistress Services:
Welcome to my world of degradation,domination,humiliation,flagellation,forced feminization,medical examination,asphyxiation,electrocution,encasement,crucifiction and much more.....
I have fully equipped chambers in northumberland
Rooms available:
* pleasurdome
* pandoras box
* confinement cell
* medical room
* fifis parlour
* school room
Mon-Fri 12.30-8pm
Sat-Sun 2pm-6pm
Rates by request
Contact 0870 2406670
Please note: There are no sexual services available
My Directly Associated Links:

Click Above to Visit my Website and Learn More or to make a Booking
---