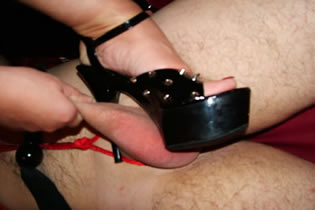 Mistress Kate :: Professional Essex Based Mistress.

I am a highly experienced professional domme.

I specialise in Role play, sensual deprivation, Tie & Tease, Cock & Ball Torture, Corporal Punishment, Sensual Domination, Slave Training, Distance Domination, Forced Feminisation, Smoking Fetish, Foot Fetish & Breath Control … & the list goes on …
General Details about my Mistress Services:
• Domination
• Humiliation
• Foot and boot worshipping
• Verbal humiliation
• Human furniture
• Human ashtray
• Domestic servitude
• Pets - Puppy, Pony, Piggy
• Small penis humiliation
• Bondage
• Rope (soft or hard)
• PVC Tape
• Gaffer/Duck tape
• Clingfilm
• Leather restraints
• Anything else I have to hand
• Sadism & Masochism
• CBT
• Many a device to make you squeal
• Nipple play
• Corporal punishment
• Whipping
• Flogging
• Paddling
• Hot Wax (varying colours)
• Human ashtray
• Trampling
• Smothering
• Squashing
• TV / Sissy Maid: Feel comfortable and have a girly chat. Explore your feminine side with me! Indulge in the delights of a woman's world in a comfortable and relaxing environment and become the true woman you want to be. OR be punished for this and serve me you sissy!
• Clean me, clean my home: Dressed as whatever I see fit. Slut, Maid or Whore!
• New slave training: Slow, informal introduction to dominance and submission learn how to serve your mistress and completely submit yourself to me!
• Tie and tease: Gently does it ... subtle and effective ways to be dominated strict but sensual.

Scenarios:
• Interrogation - card game
• School Mistress - naughty school boy
• Corporal punishment - lashes
• Mistress Worship - slut, foot, glove,
• Objectification - human furniture, ash tray, door mat
• Animals - dog, piggy, pony
• Sadist - CBT, NT, FLOGGING
I work from 10am Until 10pm Mondays to Fridays. Sundays 12noon until 8pm.
Tribute £150 p/h.
Two Hours: £250.
I also offer Bespoke sessions, Email me with your requirements and I will consider your request.
My Directly Associated Links:

Click Above to Visit my Website and Learn More or to make a Booking
---