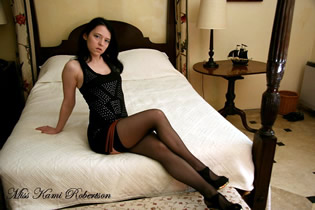 Professional CP and Corrective Therapy sessions

Do you fantasise about corporal punishment?
Would you like to be caned or strapped?
Do you enjoy feeling out of control?
Are you in need of good old-fashioned discipline?
Does your behaviour need correction?

If so you have come to just the right place! Meet your professional CP Mistress. .. Now offering sessions in Central London and Newcastle Upon Tyne.

Welcome to my world !!
General Details about my Mistress Services:
Iím Miss Kami Robertson Ė CP Specialist and Therapist, Disciplinarian and professional Mistress. Iím a 24-year-old lady with a cruel streak for those who need or deserve it and a gentle side for those wanting to relax. Iím intelligent, experienced and genuinely interested in fetish and CP. I have been actively involved in the UK spanking/fetish scene for 5 years now.

I offer sessions and services that I like to indulge in so Iím always very passionate about them.

Currently I offer CP (corporal punishment) and discipline sessions, corrective therapy, and to dominate and control you in a variety of roleplay scenarios.

Relaxation sessions (spanking therapy), consisting of slow warm up and gradual build-up well within your limits and needs, with no roleplay involved, also catered for.

If you are looking for a mistress who ďwill dominate you from the moment you enter her chambersĒ, you have probably ended up on the wrong website
I see CP play as a chance to experience desires and fantasies through roleplays (whether simple or very elaborate). I like to know what a person is after, I like to arrange a session that works for YOU. I understand that everyone is different and I would never treat two people the same.

Donít be fooled though: once we start roleplaying I will be demanding and in total control of you and your body until the end of the scene. You will feel yourself overpowered and made to obey my wish. You will realise that, no matter what, you will receive exactly what you deserve.

My sessions are never rushed. I always allow plenty of time for a proper, high-quality session and a chat at the end.
Iím now offering sessions in London and Newcastle Upon Tyne.

Iím permanently located and available in North East but will be visiting London on regular intervals, every 4-6 weeks. ... Iím available for sessions 7 days a week.

I do not accept same-day bookings!!
Ideally, please contact me at least 3 days in advance if we have not met previously.

When contacting me please suggest possible dates and times (donít just ask when Iím available Ė my schedule is irregular but flexible). Also state where (which city) you want to meet me for a session so I can provide you with accurate details.
Please check my website for more details ebfore contacting me.
My Personal & Directly Associated Banner Links:

Click Above to Visit my Website and Learn More or to make a Booking
---