Miss Whipstress ... Portsmouth, UK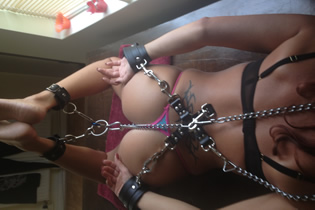 WELCOME TO "MY WORLD!" YOU ARE NOW OWNED BY MISS WHIPSTRESS, THE PREMIER LEADING DOMME OF THE SOUTH.

I AM NOT ONE OF THOSE 'BARKING DOMMES'. I HAVE MY OWN UNIQUE STYLE. I AM SENSUAL .....BUT BE CAREFUL.....I CAN ALSO BE VERY STRICT AND A NASTY BITCH!
General Details about my Mistress Services:
TO ALL YOU SLAVES,

WELCOME TO "MY WORLD!" YOU ARE NOW OWNED BY MISS WHIPSTRESS, THE PREMIER LEADING DOMME OF THE SOUTH. ON REQUEST I DO OFFER DUO SESSIONS WITH MY MASTER- SEE LINK AT BOTTOM OF THE PROFILE.

I AM NOT ONE OF THOSE 'BARKING DOMMES'. I HAVE MY OWN UNIQUE STYLE. I AM SENSUAL .....BUT BE CAREFUL.....I CAN ALSO BE VERY STRICT AND A NASTY BITCH.....IF YOU SLAVES DON'T BEHAVE!!
**SESSIONS WILL BE HELD IN MY NON- DUNGEON PREMISES.....WITH A WIDE CHOICE OF EQUIPMENT AVAILABLE TO USE AND......ABUSE YOU!!**
**MY SERVICES ARE AVAILABLE MONDAYS - SATURDAYS UNTIL 8PM.**
**STRICTLY BY APPOINTMENT - MY TIME IS PRECIOUS!!**
1 Hour £130
2 Hours £230
3 Hours £330
4 Hours £440
Overnight £750
SLAVES AND SUBS....... YOUR MISTRESS IS STILL LOOKING FOR A HOUSE SLAVE - DEVOTED AND OBEDIENT!! MUST BE COMPUTER LITERATE AND A WILLING SLAVE TO PARTICIPATE IN MY MOVIES!! ARE YOU WORTHY?? IF SO THEN APPLY BY EMAIL. SUCCESSFUL APPLICANTS WILL HAVE TO ATTEND A PERSONAL INTERVIEW WITH MISS WHIPSTRESS & HER MASTER. DONT FORGET......YOUR ONLY PURPOSE IS TO SERVE YOUR MISTRESS!**
**MISS WHIPSTRESS IS CURRENTLY LOOKING FOR WILLING AND OBEDIENT SLAVES TO PARTICIPATE IN HER LATEST MOVIES. ARE YOU WORTHY? LIKE BEING DOMINATED, ABUSED AND/OR TORTURED? THEN EMAIL ME!!**
My Personal & Directly Associated Banner Links:

Click Above to Visit my Website and Learn More or to make a Booking
---