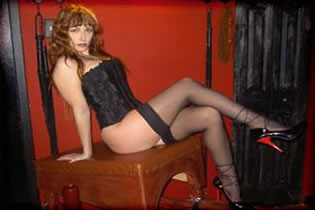 She is the one who examines the doctor, and who condemns the judge to prison.
She can make a business tycoon become Her devoted secretary. She will ground the family man. Punish arrogant professors.

Are you on top of the world?
She will make you her footstool.
You like to be the center of attention?
She will turn you into a forgotten object, discarded in the corner.
No matter your status in life, in the world of Mistress Malycia, your place is at Her feet.
General Details about my Mistress Services:
A sensual Mistress, Malycia refuses to be compared to the cold German Dominatrix as She gets Her authority from Her wits and knows instinctively how to command respect. Sometimes in the role of initiator, She opens the door for novices, while also guiding long-time players to unexplored territory. She prefers games to mechanical sessions consisting solely of flogging, however, She neglects no part of Her domain. She is trained in the art of manipulation. Her profession demands certain skills, and She never ceases to perfect them.from playing with their weaknesses and dependencies. On the contrary, She prefers to develop an intimate connection with Her submissive in order to better understand their secret desires, explore their personal taboos, and make them explode in a fire of mutual pleasure.
I am available 7/7 11pm to 8pm.for a session of one hour minimum to one day submision may be posible by arrangement.
My minimum hourly tribute is 150$ canadian and varies according to your requirements.
Click Above to Visit my Website and Learn More or to make a Booking
---