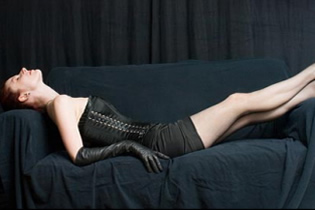 Who am I?
I am a Mistress, a perverted English lady with a wicked appetite. I am 34 years old, sophisticated, intelligent and alluring.

I am a fetishist I possess an exquisite collection of boots, shoes, gloves, gowns and corsets, lingerie and stunning fetish attire. I am a disciplinarian, strict and demanding, cold and cruel, passionate and brilliant. I am a beautiful Goddess to be worshipped and adored, a lady who demands everything from you, your absolute total submission. Being a Mistress is not a life style choice, it is who I am.
General Details about my Mistress Services:
What do I do?
Aah well that depends, on the type of scene and your level of experience.
What do I like to do?
Whilst there are many types of play I enjoy, I'll give you a small treat and tell you about my favorites:

Caning, I am excited by canes. Each one so elegant and unique, a musical instrument, playing across your body, from subtle vibrations to intense percussion.
Boot Worship, just the mere mention brings a smile to my face. I am truly a boot hedonist.
The English Governess, I take a perverse pleasure in this type of role play.

My interests include but are not limited to the following:

Age Play ; Ball Kicking ; Restraint ; CBT ; Corporeal ; Creative role play ; Domestic Service ; Face Slapping ; Feminizatio ; Fetishism ; Foot and Leg worship ; GS ; Mummificatio ; Shoe and Boot Worship ; Nipple Play ; Sadomasochism ; Sissy Training ; Slave Training ; Spanking and OTK
Phone hours: 9am-Noon Mon - Sat
Sessions: Mon - Sat
Tribute $240 per hr
I am delighted to offer the exclusive, exquisitely equipped Maison de la Maitresse as my new play space located in the heart of San Francisco.

There is absolutely no sex offered or implied by this listing. Those inquiring for all other personal services, please look elsewhere.
My Personal & Directly Associated Banner Links:
Click Above to Visit my Website and Learn More or to make a Booking
---