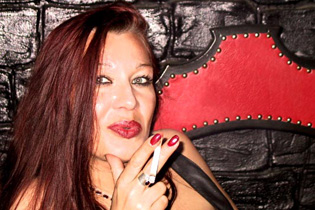 I'm strict but playful.
When meeting for play for the first time, I like to know the taboos and limits of my new toy.
Communication is the key to a good session.

Iím interested in your fantasies and will give them my own little twist, but if you plan to hand me a script to follow word for word and be your fetish doll, then you better look somewhere else.

A session that holds no surprises is simply boring.
A good session just flows without following a rigid plan and I get my best Ideas while playing.
General Details about my Mistress Services:
Even if I treat you in a session like dirt, I respect you for the courage to submit. True submission comes from strength and not weakness and I love controlling you with your own desires.

If you decide to session with me, understand you are only allowed to touch me when and where I tell you, I will touch you wherever and however I please!

I am choosy about who I play with and I hate bad manners, so present yourself in a polite way and be open about your wishes and desires.
Standard rates.
Available in Munich on most Sundays.
For the UK and US check out the travel schedule on my site.
My motto is SSC and I will not agree to any forms of play that are in violation of my motto!
Bear in mind that Iím a Domme and not an escort, so do not ask me for sexual favours.
My Directly Associated Links:

Click Above to Visit my Website and Learn More or to make a Booking
---