BBW Mistress Jane and Master Highlander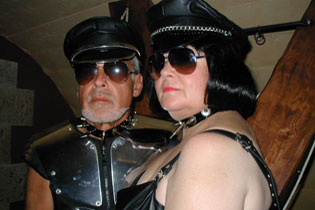 Iron Damsel and Master Highlander can offer a personal service for unaccompanied singles straight, gay or bi, who wish a brief insight into HELL !!

The professional dungeon and play areas are for singles, couples and groups in the BDSM 'scene' who wish to enjoy a unique BDSM experience.

The dungeon is situated in the cellar of a 100 years old Spanish Manor House.
General Details about our BDSM Services:
General Description:

We can meet the desires of single players, and can advise, and train couples or groups. All sexual orientations are welcome. Players with a preference to be a House Maid or Sissy Slave are catered for.

Although Master and Mistress prefer to play as a couple, they both fully understand that clients have personal preferences as to their play partner. We will always try to respect these preferences and examine what is involved.

Our HARD LIMITS are 'scat', illegal substances, under age involvement and sexual intercourse.
(We do not swing !)

You may endulge in or make use of any of the following:

Abrasion
Age Play
Anal Sex
Anal Plugs (small)
Anal plugs (large)
Anal plug (in public, under clothes)
Animal Roles
Arm & Leg Sleeves (Arm Binders)
Asphyxiation
Bathroom use control
Beating (soft)
Beating (hard)
Begging - during scene
Blindfolds
Being serviced (sexual)
Being bitten
Breast / Chest bondage
Breath Control
Boot Worship
Bondage (light)
Bondage (heavy)
Bondage (multi day)
Bondage (in public under clothing)
Breast Whipping
Cages (locked inside)
Caning
Cupboards (locked inside)
Chastity belts
Choking
Cock & Ball Torture
Collars (worn in private)
Collars (worn in public)
Competitions (with other subs)
Corsets (wearing)
Cuffs
Double penetration
Electricity
Enforced chastity
Examinations (Physical)
Exercise (Forced / demanded)
Exhibitionism (Friends)
Exhibitionism (Strangers)
Eye Contact restrictions
Face sitting
Face slapping
Fantasy Abandonment
Fantasy rape
Fantasy gang rape
Feminisation
Fisting (Vaginal)
Following Orders
Foot Worship
Forced Drinking
Forced Eating
Forced Homosexuality
Gags
Housework
Human Puppy Dog
Humiliation (in private)
Humiliation (in public)
Ice cubes
Interrogations
Kidnappings
Kneeling
Leather Clothing
Leather Restraints
Lectures for Misbehaviour
Licking (non-sexual)

Manicures (giving)
Massage (giving)
Modelling for Erotic photographs
Nipple Clamps
Nipple Weights
Nipple Torture
Oral / Anal Play (rimming)
Over the knee Spanking
Orgasm Denial
Orgasm Control
Outdoor Scenes
Prison Scenes
Public Exposure
Pussy / Cock Whipping
Pussy Worship
Riding Crops
Riding the Horse (crotch torture)
Restrictive Rules on Behaviour
Rubber / Latex Clothing
Rope / Body Harness
Scratching (getting scratched)
Sensory Deprivation
Schoolroom Scenes
Serving
Serving as ashtray
Serving as furniture
Serving as maid
Serving as toilet
Serving as waitress / waiter
Serving Orally (sexually)
Serving other Dom(mes) - (supervised)
Serving other Dom(mes) - (unsupervised)
Sexual Deprivation (short term)
Sexual Deprivation (long term)
Slutty Clothing (in private)
Slutty Clothing (in public)
Spanking
Speech Restrictions (when, what)
Spitting - spat at
Spreader Bars
Standing in Corner
Stocks
Straight jackets
Strap-on Dildos (sucking)
Strap-on Dildos (penetrated by)
Strap-on Dildos (wearing)
Strapping (full body beating)
Suspension (upright)
Suspension (inverted)
Swallowing semen
Teasing
Tickling
Triple Penetration
Trampling
Uniforms
Vaginal Dildo
Verbal Humiliation
Vibrator on Genitals
Voyeurism (watching others)
Voyeurism (your Dom(me) with others
Video (watching others)
Water Sports - Inhaling Urine
Water Sports - Drinking
Water Sports - being splashed
Wax Torture
Whipping
Wooden Paddles
Wrestling
The same fees apply to the service for a Mistress or a Master or both. They are all one fee.

Hourly: 130 Euros
We can also provide accommodation for extended periods of time, living 24/7, in a cage, if desired.

Full details can be seen on website at:
www.bondagedominationspain.com
Both Mistress and Master enjoy inflicting pain causing humiliation, degradation, denial and teasing to keep slaves docile and eager to serve.
Our Directly Associated Links:

Click Above to Visit my Website and Learn More or to make a Booking
---