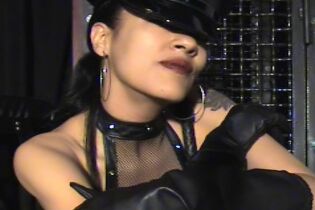 My name is Empress Angelique Blaque and I have been a Professional Mistress for years.

I accept role-play with males and females of all ages and races. Looks are not of any concern.

I am very open minded and know that everyone has fantasies no matter age, race or capability.
General Details about my Mistress Services:
I am a woman who takes the dominant role in bondage and discipline, dominance and submission and masochistic role-play. I take pleasure in the lifestyle and itís many aspects, especially bondage and discipline, humiliation, objectification with a small number of limits. I am meticulously accepting studio and outcall clientele into my beautiful havoc.
When life permits I am very flexible. I encourage you to research me and visit my website and feel free to send respectful questions.
My large Dungeon is well equipped. It has a very Dark Erotic characteristic (Like me). I have several wicked toys, cages, a St. Andrews cross, TD chair, queening chair, toilet chair, flogs, paddle, sounds, electro, medical toys, dildos small enough to for a mouse and a few large enough for a horse, NT CBT toys, diapers, whips crops and miscellaneous things I have collected over the years.

I am located on the south side of Seattle in a discrete location. A professional industrial area of Georgetown. A few minutes from Downtown Seattle and Ferries.

I have Feminization items such as bras, panties, thongs, garters, stockings, clothing, wigs, shoes, nail polish and makeup. You are always welcome to bring your own possessions to an appointment.
My Personal & Directly Associated Banner Links:

Click Above to Visit my Website and Learn More or to make a Booking
---