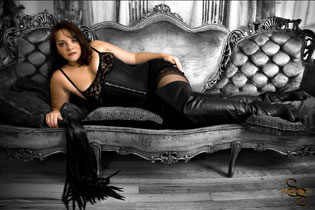 Sexy, intelligent, experienced Mistress with styles ranging from light teasing to heavily sadistic. I am the girl next door with a very kinky twist. With strong ties to corporal and OTK from a very young age, I never grow tired of pulling a grown man over My knee and turning him back into a little boy

Extremely skilled with caning. Wide variety of corporal and domestic discipline implements. Sessions have a very strong mental component as I realize that corporal and domestic discipline is more than the ability to swing a paddle.
General Details about my Mistress Services:
I offer extensive services in all legal fetishes. From traditional OTK bare bottom spankings with my hand or hairbrush to severe canings. Bondage, humiliation, cbt, enemas, anal training, slave training, slut training, cross dressing...the list goes on and on. My outfits range from the 'girl next door'....to the typical leather clad Dominatrix. My personality varies from very conservative to very kinky.
Sessions are via appointment only and can be scheduled through email or by phone. I am able to do same day sessions with a few hours notice and sometimes less, but if you truly wish to see me, you should try to schedule in advance as I rarely have a completely open day.
I will be polite and respectful of you and expect the same courtesy in return. Safety and privacy are of utmost importance and I will never ever put one of my naughty boys or girls at risk.
My Directly Associated Links:

Click Above to Visit my Website and Learn More or to make a Booking
---