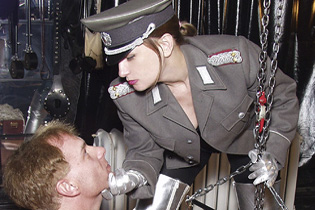 In the last 10 years I have become an Internationally acclaimed Dominatrix by traveling extensively around the world learning new techniques and different ideologies concerning Fem Dom. Ranked #1 in the field of female domination on many major search engines, I maintain my own personal website with over 75 fem dom DVD titles and new ones constantly in the edit room, several websites to maintain, an enormous Victorian dungeon with a visiting Mistress program attached to it, plus a hectic travel schedule, you have to wonder how I find time to do it all? The reason lies in my genuine enjoyment of all things related to my projects concerning FemDom.

General Details about my Mistress Services:
The Compound is an Internationally acclaimed excessively equipped private play space. We attract the best and the brightest! We are located in Pittsburgh, PA approximately fifteen minutes from the downtown area, and forty five minutes from the airport. The scene you partake in as a submissive will be conducted with intelligence and dignity - no matter the nature of your interests. D/s has psychotherapeutic value. If you are returning, call the direct appointment line to arrange your next session. Guest Mistresses are also available! I have been abroad over a dozen times, have visited OWK 8 times, and am recognized in many countries as a Top Domina.

I aggressively explore opportunities to be creative as a business woman outside the dungeon. I won't be limited to one professional identity.
This is will be discussed privately once it is determined that there is compatibility between us.
Click Above to Visit my Website and Learn More or to make a Booking
---