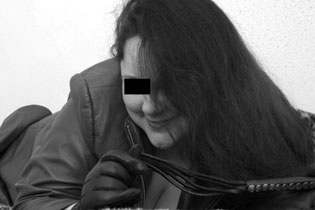 I am a BBW strict sadistic Domina. I am a UK size 26, with long raven-hair and blue eyes.

I have been interested in BDSM one way or another since I was 15 years of age where I have always been of a Dominant nature.

I turned professional in early 2002.
General Details about my Mistress Services:
My favourite activities include but are NOT limited to: Breath Play/Smothering, Interrogation, Bondage, Shoe/Boot/Foot Worship, Needles, Clothed Face-Sitting, Cock & Ball Torture, Nipple Torture, Electrics, Humiliation, Human Furniture, Knife Play, Corporal Punishment, Being Pampered.

For a full list see the activities page on My website.
£100 an hour, £75 for each additional. I am available Mon-Sat from 3-6pm.
Due to other commitments I require at least 3-7 days notice for sessions.
Visit My website for all information.
I offer real time, email, webcam, chastity, financial slavery and telephone Domination via Niteflirt or Talksugar to those whom I deem suitable. No sex or personal services sought or offered.
My Directly Associated Links:

Click Above to Visit my Website and Learn More or to make a Booking
---