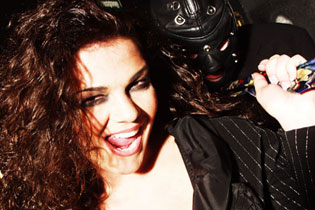 My first experience with bizarre games was around 10 years ago. It was then that I began to understand that it was my calling to become a dominatrix.

I have been answering this call since 1995.
During this time, I have of course, developed my skill.
General Details about my Mistress Services:
On the one side the technical, such as the various types of tying as well as the masterful art of Japanese bondage. With this I can have my guests swinging in the air before me, knowing they are totally at my mercy. On the other side, my ability to cater to the individual desires of each guest through the creation of the perfect game and my understanding for every fetish. I especially love latex games. I really love to leave my guests tied up in rubber. Sweating, blown up, sucked out with all different kinds of masks, gagged and hooked up to hoses at every orifice. Playing with rubber offers so many possibilities that I'm always extending my latex assortment. I'm fascinated by games that require a great deal of intuition such as transvestite instruction and the transformation from man into woman, playing the strict mother or nanny, military drills, breaking in dogs and horses, bringing little piggy off to market, the list is endless. The clinic is also one of my specialities. My training as a nurse afforded me head start in this area and the extreme importance I place on hygiene and cleanliness applies not only to the clinic, but the entire studio in general.
You can meet Lady Alexa every Tuesday, Thursday and Saturday at the Studio Palais. If you would like to have an audience with her on a different day you should arrange a personal appointment under the number 0172 - 8607545
Journey with me to a kingdom of absolute lust, spoil me, feel me - delve into my world of unending passion for love and pain. My appetite and wishes are so intense that I seriously have my doubts as to whether or not you can satisfy me!
My Directly Associated Links:

Click Above to Visit my Website and Learn More or to make a Booking
---